Curriculum K-8
Since 1921, Saint Benedict Catholic School has provided a valuable education for the children of South Baldwin County. Over the years, our curriculum has consistently included the best and most appropriate educational tools available. Although curriculum methods may change, SBCS strives to provide educational excellence with emphasis on Gospel values. We endeavor to shape students' characters as well as their minds. This is achieved through the personal attention and high expectations of our dedicated faculty and through small group instruction and limited class size.


Elementary (K-5)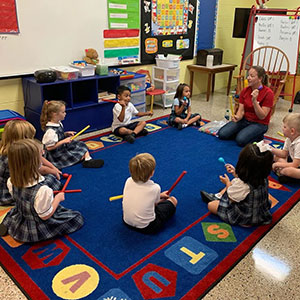 Our Primary and Intermediate Programs are designed to build academic skills which are critical for all future learning. All elementary teachers are state certified as well as trained and experienced in providing flexible differentiation for all learners, from the struggling to the gifted. In the lower grades (K-2), students receive small group instruction as they move around the various classroom learning centers. This style of teaching makes learning personalized and rewarding. Each class has iPads, Chromebooks and iMac computer stations that are integrated as an engaging part of regular instruction. Literacy is a focus area along with hands-on learning in Math and Science that promotes critical thinking. The academic program in the upper grades (3rd-5th) is more challenging and demanding as students prepare to enter middle school. Emphasis is placed on sharpening critical thinking and problem-solving skills while developing specific knowledge across the curriculum. Modified departmentalization allows the teachers to have more depth in each subject area. Hands on learning, collaborative groups, and the use of technology (Chromebooks, iMacs and iPads) for independent practice, research, and projects enable students to establish a solid foundation of learning in the core subjects.
Middle School (6-8)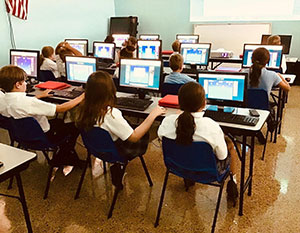 The Middle School Program challenges students in sixth, seventh, and eighth grades to explore their talents, both academically and socially as they begin secondary education. During this time of rapid growth and change, students are given opportunities to extend their academic horizons, develop leadership abilities, and take on greater responsibility and independence in their learning. Middle School students are allowed to create an elective area of study in their own area of interest and talent with teacher sponsorship and principal permission. Our middle school teachers have been trained at Rice University in the College Board's Pre-AP program in their respective subject areas as well as being state certified and trained in Project Based Learning. The academic program in middle school is geared to provide opportunities for advanced studies that facilitate success in high school and college. The use of technology (iPads, iMacs, Kindles, Chromebooks, iMacs) is an integral part of daily instruction and student work. Writing, communication, critical thinking, research, and analytical skills are emphasized to empower students for life.
Blended Learning
Blended learning is a classroom instruction model that blends:
direct instruction from a teacher
collaborative learning among students and
individualized learning on computers or laptops.
The goal is to allow teachers to "differentiate" their instruction to the individual needs and pace of each student in a classroom. Students who master a lesson or concept may advance through lessons and materials on that topic, while teachers direct their instruction to groups of students who share a level of understanding. This allows the teacher to explain a lesson in a way that maximizes the grasp of the material for individuals and groups. Work groupings likely will change daily and weekly as students master different learning topics or standards. Groupings will also vary subject to subject in accord with students' learning strengths and weaknesses.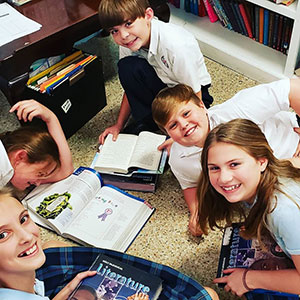 An example given would include math groupings. The teacher begins a subject like math with one group of students, working through her lesson. While one group is working with her, a second group works together on a collaborative learning project and the third group works individually on their own computer profiles of assignments. All students receive the lesson on the same grade level standard in rotation. All students cycle through direct instruction in each subject with their teachers, and they deepen their understanding and critical thinking about that subject through collaborating with other students and through their online computer software programs.