All students from kindergarten – 8th grade have one 45-minute class in our STEM lab every week. The purpose of our program is to focus on technology and engineering components of STEM and to improve students' math and reasoning skills. We also want our students to learn how to work collaboratively and think systematically – essential skills for life in the 21st century.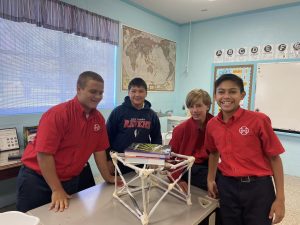 During STEM lab, students have the opportunity to use different programs to spark creativity and enhance their technological skills. Scratch is a creation of the MIT Media Lab that teaches our students how to code their very own interactive games, stories and animations. Our 4th – 8th graders love to create and design 3D models using Tinkercad, and then watch their designs come to life on our 3D printer.
We also have Vex IQ robots for our middle school students. They can design, create, and control their robots in our STEM lab and have the opportunity to compete in regional and state competitions. During the 2019-2020 school year, the Robotics classes competed with 42 other Baldwin County teams in the VEX IQ Robotics Challenge at Foley Middle School and St. Benedict School took first Place, then going on to States to compete in Auburn at the Alabama Vex State Competition. Our STEM lab continues after school on Tuesday and Thursday for students that want to improve their robotic skills and tinker with Raspberry pi's.