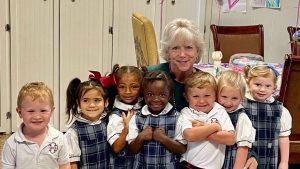 We thank you for your interest in St. Benedict Catholic School. For more information on the application process, please contact our school registrar at rkrehling@saintbenedict.net. She will arrange your personal tour and principal visit. Below is a Registration Checklist for New Students:
Documents needed:
Certified, original birth certificate (Preschool, Kindergarten, 1st Grade)

Baptismal Certification, if Catholic

Academic records (most recent report card, testing information if applicable)
Social Security Card/Number of students
State of Alabama Immunization Certificate needed before school begins
Copies of divorce decrees and/or custody judgements issued by the courts (if applicable)
Age requirements for students depend on the age of the student as of September 10 for the school year entering. (example: first graders must be 6 years old on/before September 10)
NOW ENROLLING GRADES PRE-K THROUGH 8TH GRADES
**Preschool students must be potty trained.