The Junior Optimist Club
The Junior Optimist Club is recognized worldwide as a premiere volunteer organization that values all children and helps them develop their full potential. Their purpose is to promote an active interest in good government and civic affairs; to inspire respect for the law; to promote patriotism and work for international accord and friendship among all people; to aid and encourage the development of youth, in the belief that the giving of one's self in service to others will advance the well-being of humankind, community life and the world.
Our students get the opportunity to volunteer, participate in service projects and hear from special speakers. For example, the Mayor of Elberta, Jim Hamby, came to speak to our Junior Optimist Club to teach them about good government and his role as Mayor.
Peer Helpers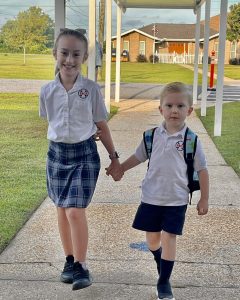 Peer Helpers is a program at St. Benedict provided through a grant from the Jennifer Claire Moore Foundation that assists children and adolescents in feeling capable, understood, and responsible. Peer Helpers are young people who are trained and supervised by professionals.
Peer Helpers students are taught a set of core skills that empower them to assist fellow students with emotional, societal, behavioral, and educational challenges they face in day-to-day life. Peer Helping can be set up as a club or a course. The program covers several of the issues that affect our youth today, such as:
bullying | parental divorce | body image | family sickness | grief and coping | depression
The concept of Peer Helping is based on the fact that when a young person is seeking help, validation or guidance, they turn to a peer first and reach out to their parents much later, if at all. Therefore, it is our youth that we will continue to empower to support one another because they make the greatest positive impact.
How Do Peer Helpers at SBCS Help?
Peer Tutors help students with academic and social skills.
Buddies help new or younger students transition in a new school.
Discussion Leaders assist with topics of concern with other children and adolescents.
Special Project Assistants design and coordinate services and projects that benefit the community.
Role Models help others learn appropriate behaviors.
Conflict Mediators help others resolve disputes.
National Junior Honor Society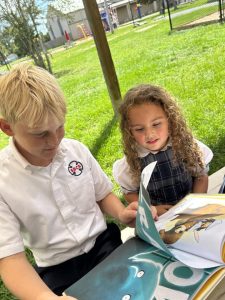 Established in 1929, the National Junior Honor Society (NJHS) is the nation's premiere organization to recognize outstanding high school and middle school students. More than just an honor roll, NJHS serves to honor those students who have demonstrated excellence in areas of Scholarship, Leadership, Service, Character, and Citizenship. These characteristics have been associated with membership in the organization since their beginnings.
At St. Benedict, in accordance with national standards set by NJHS, students will be invited to apply through their demonstration of success in the area of scholarship. That means, students in 7th or 8th grade with a cumulative GPA of 3.6 on a 4-point scale will receive an invitation to fill out an application. In addition to recommendation forms from teachers and/or other adults, the application will ask for the student to give examples of their accomplishments in the remaining areas of Leadership, Service, Character, and Citizenship. The Faculty Council is an anonymous group of faculty members that review all applications and make final decisions about who will be invited for induction into the NJHS. The Faculty Council also serves as the group who determines if a student should be dismissed because of failure to meet expectations in one of the five areas of Scholarship, Leadership, Service, Character, or Citizenship.
Student Government Association
The Student Government Association (SGA) is designed to foster leadership skills, encourage school spirit, and teach democratic principles among students. As a student-run organization that represents the entire student body, SGA allows students to express concerns and take a stand on important issues. SGA strives to lead by example in the areas of academics, extra-curricular activities, community service, school spirit, student events, and student-teacher relations. SGA members should be role models for other students, both in and out of the classroom. The SGA at St. Benedict Catholic School strives to provide an effective, enjoyable environment to bring about positive change for students.